Deplus is helping fight against the Corona Virus COVID-1
We offer solutions to clean and decontaminate areas against mold, bacteria and viruses in the air, proudly distribute product with an excellent and proven results like Freshaire UV and Nu-Calgon
Fresh Aire UV
Indoor Air Quality Products for Home & Business
Welcome to Fresh-Aire UV, makers of the world's best whole-house UV light and activated carbon air purifiers. Our products clean the air throughout your home or business because they are installed directly inside your central air system. Microbes and odors are eliminated as air cycles repeatedly through the system
Residential & Commercial
We all need clean air to be healthy and thrive. According to the EPA indoor air pollution is often five times worse than outside air. Fresh-Aire UV products protect your family or business, extend the life of your air system, and reduce energy and maintenance costs.
The Other Two Thirds
Indoor air pollution can be divided roughly into thirds:
PARTICULATES MOLD/GERMS ODORS/VOCs
Conventional filtration is effective against particulates, like dust, but has no effect on the other two thirds. Fresh-Aire UV light products, such as Blue-Tube UV, are proven to sterilize biological contaminants like mold, germs, and viruses in the air and on air system surfaces. Our award-winning APCO products neutralize odor-causing VOCs as well as biological contaminants inside the air system and throughout the home.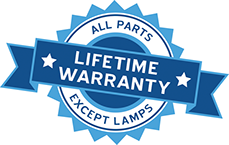 Award-Winning Innovation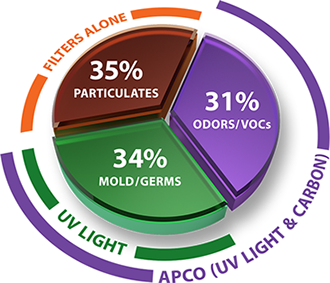 Neutralize odors and toxic VOCs as well as biological contaminants with APCO-X, our most advanced whole-house air purifier.
iWave® Air Purifiers
iWave has been proven through independent lab testing to kill pathogens in the breathing zone and on hard, non-porous surfaces. iWave has proven
to significantly reduce a wide variety of pathogens, such as MRSA, C. Diff, TB and Legionella, among others. We currently do not have testing data as
COVID-19 virus is not available for testing.
With technology installed in over 100,000 applications, iWave-R is the world's first self-cleaning, no maintenance needlepoint bi-polar ionization generator designed specifically for treating air in residential duct A/C systems. As the air flows past the iWave-R, positive and negative ions actively purify the supply air, killing mold, bacteria and viruses in the coil and living space. The ionization process also reduces allergens, smoke and static electricity, as well as controlling odors (cooking, pet, VOCs) and other particles (no more sunbeams) in the air without creating ozone or any harmful byproducts.
Nu -Calgon iWave-V